As part of the new individual hygiene measures for protection against COVID-19, we would like to inform you that our accommodation has taken care of your safest possible stay. So:
The apartments / rooms are well ventilated and bright and are cleaned and disinfected daily by the cleaner with proper care (mask-gloves). Sheets - towels, etc. are machine washable at temperatures above 60 C.
Especially for this year 2020, the check in will be done from 16:00 onwards, as this way there is more time for more thorough disinfection in the areas of the apartments / rooms.
Customers have the right (with a relevant discount) not to have breakfast, so that many people are not in the same place.
For those who want to have breakfast, the buffet breakfast has been modified to include a la carte breakfast.
The umbrellas on the beach are far enough apart to allow privacy and avoid crowding.
"Akti Kamares" is a new complex (built on 2010) of apartments, consisting of seven apartment-suites and one double room, situated next to the seafront of Kamares beach, surrounded by olive trees and mulberry trees. The apartments are designed to be accommodating and comfortable, providing all the facilities that will make your holidays unique and unforgettable. The sandy beach in front of the apartments is ideal for swimming and sunbathing. The area is fertile with olive trees and fig trees and makes the apartments ideal for calm and relaxing holidays. The beach is relatively secluded and is recommended for calming holidays.
There is also a snack bar serving breakfast (from 08.00 to 10.30 am), while in the rest of the day (10.30-15.00 and 17.00-21.00) you can buy coffees, soft drinks, drinks, beers and other beverages, as well as cold dishes, sandwiches, pizzas, hot dogs and more. The nearest supermarket is about 7 minutes by car, in Vathi. There, you will also find a grocery store and bakery. For a greater variety, you can buy various items of your choice from the bigger supermarkets at Gytheion or Areopolis (20 minutes by car).
The Area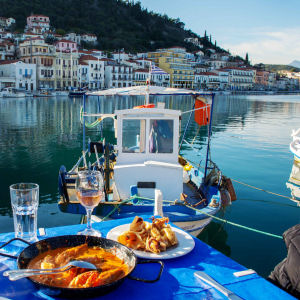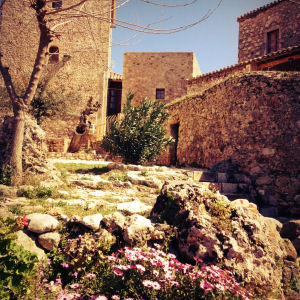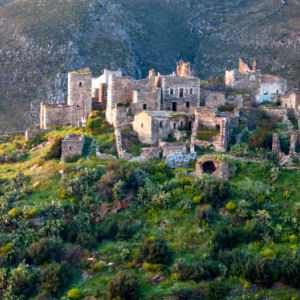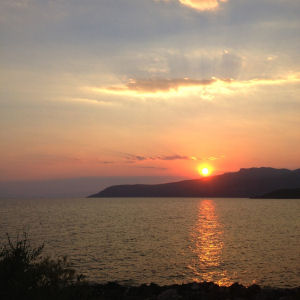 "Akti Kamares" is built on the Kamares beach of Gytheio in Mani. Specifically, the Kamares beach is 16 km away from Gytheio and 14 km away from Areopoli, the traditional capital of Mani. The journey from Athens to Mani passes through very ancient areas, considered the cradle of European civilization. It is a 2.5-3 hours journey (Athens to Gytheio) which, in its biggest part (2 hours) is on a modern national highway.
Mani is famous for its history and its architecture. Towers and isolated guarded houses dominate every village or little corner of this rough area. Olive-oil is the only product in abundance and is famous for its quality and its nutritional value. The natives, are taciturn, idiosyncratic but very hospitable and willing to show you around and to help you understand …MANI.
Mani's beauty exists throughout the year and waits for you to discover it!
The area offers many opportunities for excursions in Mani and in the Laconia prefecture in general. Vatheia is 26 km away and Porto Kagio and Cape Tainaro a little further down at about 30 km. The Caves of Diros are approximately 20 km away, Sparti and Mistras 40 minutes by car and castle-town Monemvasia 1 hour and 15 minutes away.
Suggested near trips:
Round trip to Mani (suggested as a day trip, as you can see and explore many places and make stops for swimming, coffee, lunch etc.).
Areopoli - Limeni - Oitilo (Mani's traditional capital town, full of towers which is the characteristic architecture of the place).
The Caves of Diros (world famous caves as it is accessible by boat and later on foot, dating back a million years).
Malvasia (Monemvasia) a town built on a rock, full of history and legends and sights to see.
Mistras - Sparta 40 minutes drive to visit another place in time (back to 15th century), full of old churches, the great palace and many others.
Other wonderful places to visit during your stay:
Gytheio
Vatheia
Kotronas
Gerolimenas
Kokkala
You can get more information in your room or by asking at the reception desk.
Facilities
APARTMENT-SUITES
Apartment-suites exist on all floors of the building. The apartments of the first and second floor have balconies with sea view. The apartment and the double-room at the ground floor have a private patio. Each apartment has a bedroom with a double bed and a sitting room with a couch that can become a bed in order to accommodate two more persons. The double room on the ground floor has its own veranda but does not have a living room and a kitchen
FACILITIES PER APARTMENT
1 bedroom with a double bed
Sitting room with a couch-bed
Bathroom with toilet and shower cabin
Hairdryer
Ceramic cooker - Boiler
Refrigerator
TV
Wired & wireless Internet (WiFi)
Safe box
Air condition and ceiling fan
Heating
FACILITIES AT DOUBLE ROOM
1 double bed
Bathroom with toilet and shower cabin
Hairdryer
Refrigerator
TV
Wired & wireless Internet (WiFi)
Safe box
Air condition and ceiling fan
Heating
Inside the building there is a reception area with a sitting room, and outside there is a private parking area and a playground. At the beach in front of the apartments, there are umbrellas and beds reserved free of charge exclusively for our guests, while from 2017 summer there is a snack bar operating.